How to protect your family and business from Covid-19 scams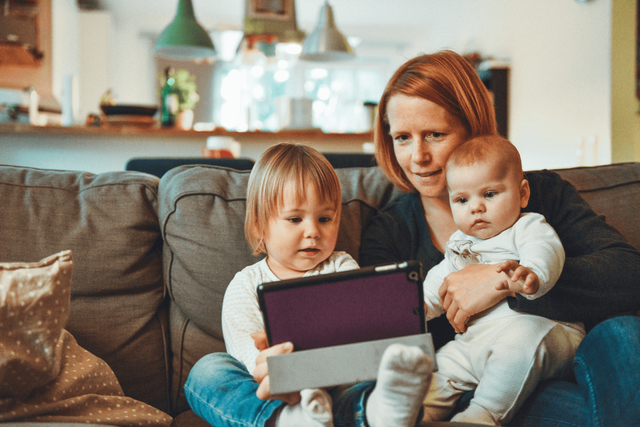 What to look out for and how to protect the things that matter, including:
5 scams we've spotted
Small business specific scams
How to keep your business safe
How to report a scam you've witnessed
Financial regulators, the police and consumer groups are warning members of the public and small business owners to be on the lookout for coronavirus scams, following a worrying spike in cases of fraud.
A nationwide lockdown is a fertile ground for scam artists. With the majority of the UK population at home for up to 23 hours a day, their audience couldn't be much more captive.
While people and businesses are vulnerable and uncertain about the future, opportunities are rife for criminals. This is especially relevant as older and more vulnerable people self-isolate and are targeted over the phone or in-person to part with their money.
Rising numbers
The City of London Police has detected a 400% increase in COVID-19 related fraud in the last month. Action Fraud has totted up total losses approaching £1million going back to February.
Of particular concern is the rise in scams exploiting government grant money, tax back opportunities from HMRC and 'early access' pensions. Also worrying is fraud playing on UK police rules and data harvesting through messages where scammers pose as medical authorities.
So, what can you do? What are the tell-tale signs you should be looking for? How can you protect yourselves, your loved ones and your business?
Smishing, phishing and spoofing
Smishing is a mashing of "SMS" (texting) and "phishing." When cybercriminals "phish," they send fraudulent emails in the hope that a victim clicks on a dodgy attachment or malicious link thinking they are legitimate. While phishing uses emails, smishing uses text messages.
Where many of us have become wise to email scams over the years, smishing in on the rise, Up until now, criminals have and still are sending text messages that purport to be from a trusted organisation in an attempt to access or harvest your personal information or bank accounts. They often look like a text from a financial institution, credit card lender, or broadband provider.
COVID scammers have taken this a step further with 'spoofing' texts (a form of smishing) that attempts to piggyback on genuine text messages sent from organisations like the NHS, your local GP surgery, the UK government or even the World Health Organisation (WHO).
We know where you live
One recent example looks like this: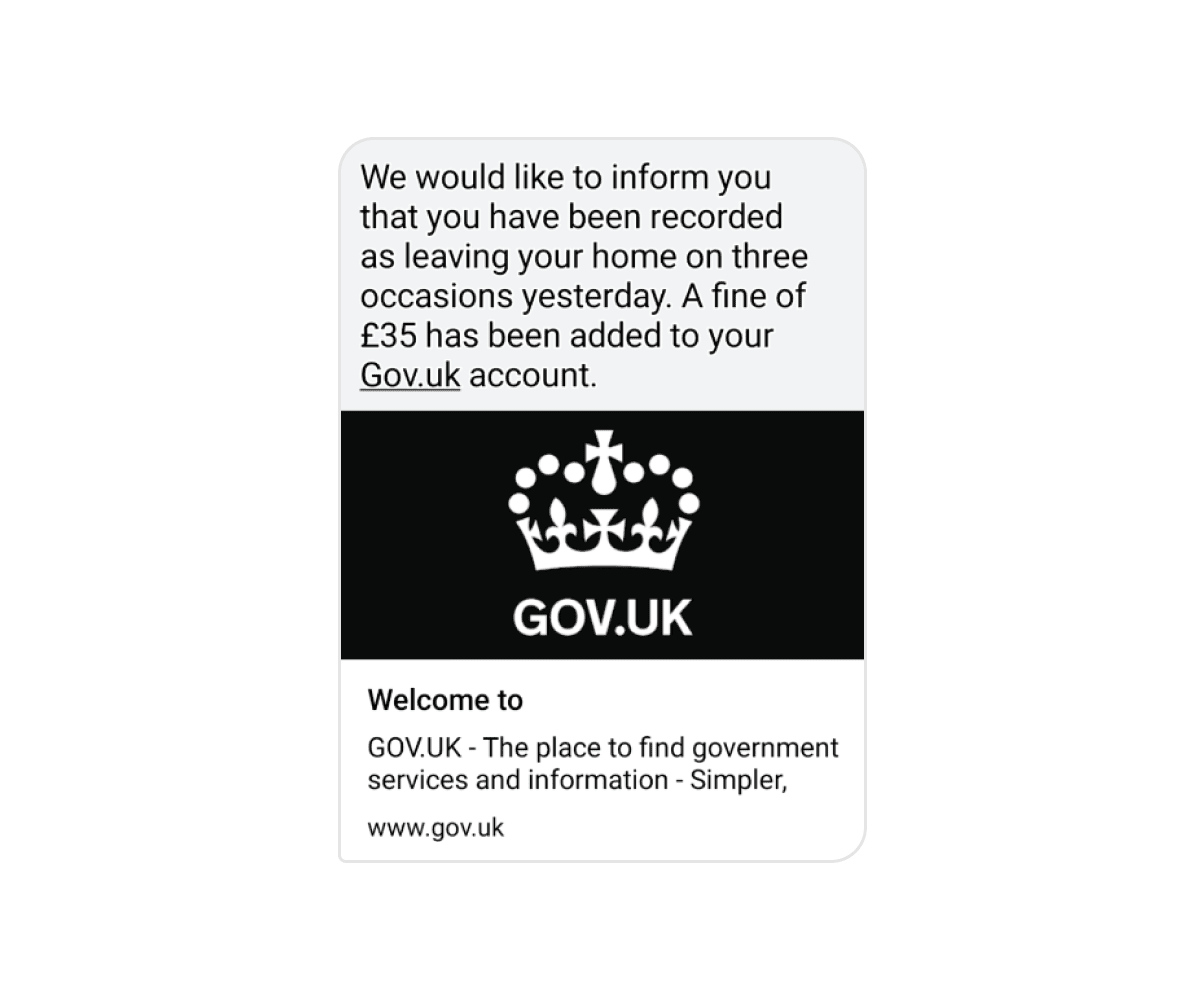 It includes a genuine link (in this case gov.uk) and then a second malicious link (not shown here). It ends with the words: Stay Home. Protect The NHS. Save Lives.
On the face of it, this should be an easy scam to spot: How would the police possibly know that if it were true? But when it's presented authentically, and especially when delivered at the right time, it can be very persuasive in encouraging that click.
Scams like these are effective because they appear to be part of a chain of genuine messages. Naturally, in this climate people are going to be more receptive to messages that look like they come from the government, the police or the NHS. But you should consider other avenues that can be exploited too. Recruitment agencies, lawyers, estate agents, even HMRC can all be piggybacked, so stay aware.
To help protect yourself you should:
Reject offers that come out of the blue
Seek out and confirm the company's root name by checking their credentials on the FCA's Financial Services Register
Do not click links from any sender you do not already know
Do not give out personal details (bank details, address, existing insurance/pensions/investment details)
There is further advice on the FCA's ScamSmart website about how to protect yourself. You can also call Action Fraud straight away on 0300 123 2040
Behind the masks
Other areas that are being exploited are online retail fake donation websites.
Unscrupulous opportunists have been attempting to dupe the general public into paying upfront for protective face masks, hand sanitisers and cleaning products, but if you place an order you'll find no such equipment arrives.
Fake charity pages are also using text messages and emails to target victims. According to The Guardian, criminals are asking for donations to help the NHS fight COVID-19. One particular email asks for money to buy "medical preparations and supplies" for the NHS to cope with coronavirus.
The best advice to avoid falling for these scams is to independently check the URL, phone number or email address. If you want to contribute to the national effort, you can always go through traditional channels instead.
For instance, the Sun Newspaper has launched an appeal to raise £1million for the NHS
Advice from The Crown Prosecution Service (CPS)
Stop
Taking a moment to stop and think before parting with your money or information could keep you safe.
Challenge
Could what you see be fake? It's okay to reject, refuse or ignore any requests. Only criminals will try to rush or panic you into a decision.
Protect
Contact your bank immediately if you think you've fallen for a scam and report it to Action Fraud.
5 Scams we've spotted
Fraudsters are exploiting the fact that bank branches are closed by encouraging people to switch accounts online.
Con artists are contacting the unemployed and offering fake jobs as key workers. They ask you to pay for background checks (which is something teachers and contractors working with sensitive information regularly do, adding to the authenticity)
Ofcom has reported scammers who are posing as members of their team. A recorded message or caller will claim that your broadband needs to be slowed down or switched off dues to the lockdown. Netflix did reduce its bandwidth and suspend HD streaming for a while, so it's not implausible. But be extra cautious with any caller who tries to encourage you to speak to an operator or press a button for more information. This could lead to you paying premium phone rates.
Scammers may try to contact you about coronavirus, offering tests for the virus, treatments or even a cure. Again these calls aim to pass you on to an operator or press a button on your phone for further information. If you speak to an operator, you could be at risk of giving them your personal information or your financial details, which could result in identity theft or financial loss.
Fake messages from your GP. If you worry that a call or text might not be genuine you can call your GP's surgery separately to check whether they have tried to contact you.
It's all very worrying and of course, this poses a threat to genuine messages designed to protect us. Here is an example of a real message: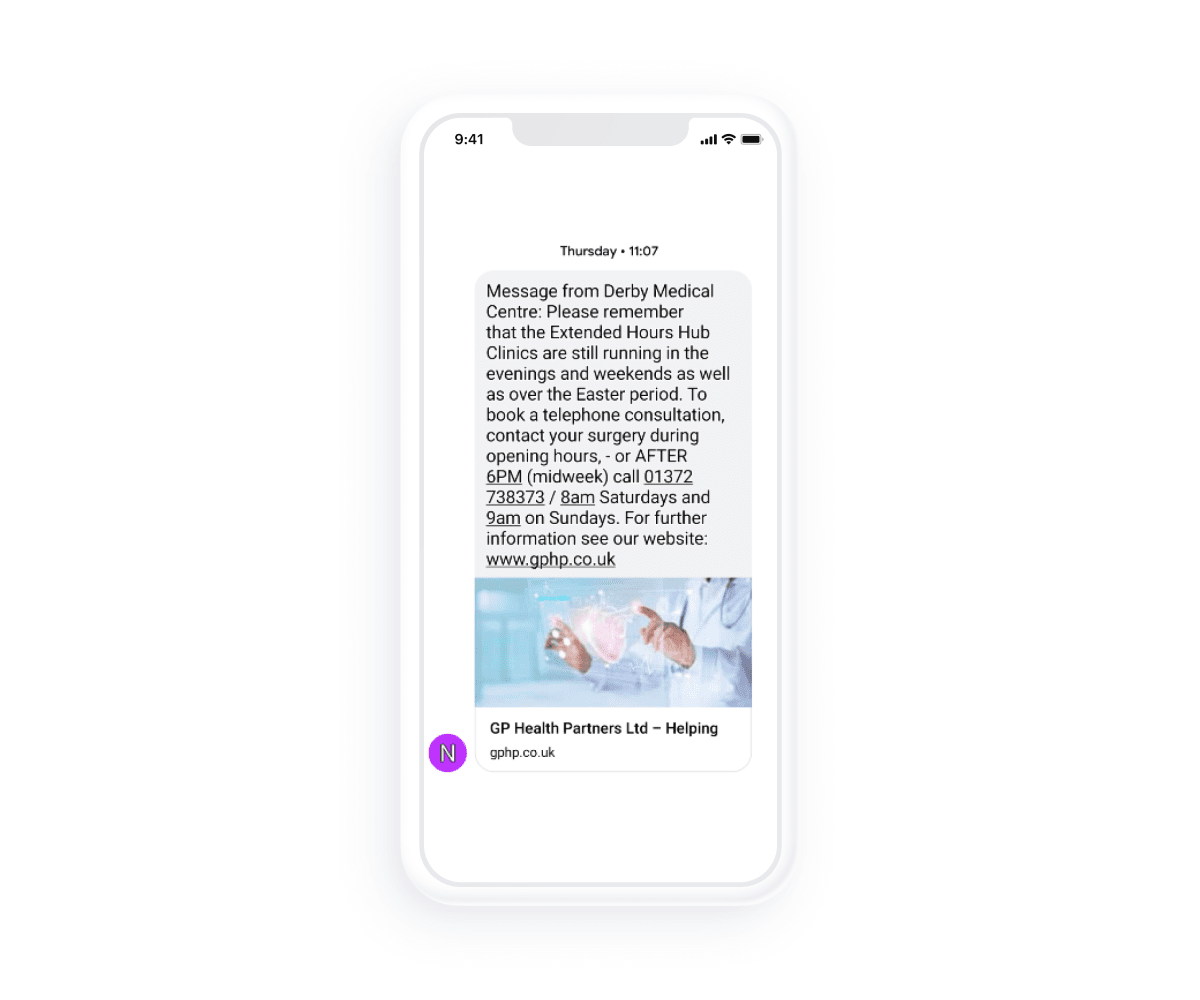 You'll notice a couple of key things. The main action is to ring a number, and not click a link. You are invited to click a link only if you need more information - and crucially, it's a short URL for a main website which you could independently check without clicking on the link. Once you are confident that you are dealing with a genuine contact, consider adding it to your phone under a name so you can distinguish it from other similar but possibly fraudulent contacts you receive in the future.
Small business specific scams
Many small businesses have profound money worries at this time. At Amaiz we're here to help with the latest news, guidance and we've also frozen fees throughout April.
But if you're a small business owner you need to look out for:
Fake business loans that demand upfront fees or press membership of government schemes. Always make sure you are going through official government and HMRC channels.
WhatsApp messages telling you that your bank is facing difficulty because of coronavirus. To protect your cash, they may tell you to switch to a new bank account. Your money is 100% safe and protected when it's in your Amaiz account.
Fraudsters using HMRC branding to convince you to log in to a particular website or reveal personal information. Make sure you look at and confirm the email address of the person who sent it to you.
Fraudsters circulating articles about the virus outbreak with a link to a fake company website where victims are encouraged to subscribe to a daily newsletter for further updates.
Fraudsters sending investment scheme and trading advice encouraging people to take advantage of the coronavirus downturn.
Fraudsters pretending to be from HMRC offering a tax refund and directing you to a fake website that will harvest your personal and financial details. Such emails often feature the HMRC logo making them look legitimate.
Beware of offers that look too good to be true, such as high return investments and 'healthcare opportunities', or 'new tax breaks' for businesses making contributions to charity
'Early access pension' fraudsters that attempt to persuade Ltd companies to switch schemes or unlock existing pensions early to raise cash.
The National Crime Agency has warned that it expects an upsurge in phishing scams or calls 'claiming to be from government departments offering grants, tax rebates or compensation.'
How to keep yourself and your business safe:
Reject unsolicited offers, particularly ones that offer quick fixes.
Be wary of social media adverts or sponsored adverts that you see online.
Don't click on links sent by anyone you don't know.
Don't give out personal details.
Research companies you want to buy from to make sure that they're legitimate.
Make sure you have the latest software and app updates installed.
Check your bank statements regularly for any unusual activity.
What to do and how to protect yourself
If you receive a call, text or any other communication that you think might be a scam, hang up or delete the text and report it to Action Fraud, including the number that was used to contact you.
Watch out for scam messages. Don't click on the links or attachments in suspicious emails, and never respond to unsolicited messages and calls that ask for your personal or financial details.
If you're making a purchase from a company or person you don't know and trust, carry out some research first and ask a friend or family member for advice before completing the purchase. If you decide to go ahead with the purchase, use a credit card if you have one, as most major credit card providers insure online purchases.
Protect your devices from the latest threats: Always install the latest software and app updates to protect every device that could be exploited.
For information on how to update your devices, please visit: https://www.ncsc.gov.uk/guidance/securing-your-devices
For more information on how to shop online safely, please visit: https://www.actionfraud.police.uk/shoponlinesafely
Reporting a crime to the police
If you think you have been a victim or witness to crime there are several ways to report it to the police:
Emergencies
In an emergency, you should phone 999 and ask for the police.
Non-emergency situations
In non-emergency situations, you should phone 101 and you will be transferred to your local police force.
If you wish to remain anonymous you can report a crime to Crimestoppers by phoning 0800 555 111 or visiting www.crimestoppers-uk.org
Stay safe online and offline. For the latest health information and advice about COVID-19 please visit the NHS website.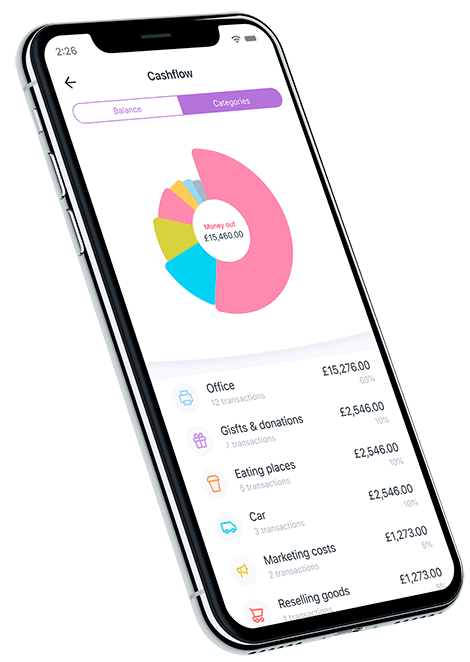 Download now!
And you can open a business account with all the support you need in minutes.
By clicking "Send link" you agree with our
Privacy and Cookie Policy
and to your personal data being collected and processed by us